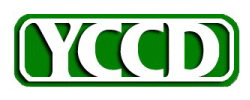 Spring 2022 student permits are free. Please note: students can only park in student parking spots on campus.
New Student E-mail
Beginning May 1, 2018, students will need to login using your NEW e-mail address (@my.yosemite.edu).
If you do not know your new e-mail address, please contact PMB at 1-800-700-4417 for assistance.
Parking Permits
A parking permit is required 7 AM Monday twenty-four hours a day through 5 PM on Friday. Permits must be properly displayed so that they are viewable to a person standing in front of your vehicle.
Permits are not transferable from person to person. Under no circumstance may you sell, exchange, or give your permit to someone else. Inappropriate use may result in the confiscation of the permit and could also lead to citations for both the user and the authorized permit holder.
Day passes cost $2 and may be purchased at the parking permit dispensers located in parking lots on campus. Day permits shall be placed "This side up" on the dashboard as directed on the permit and must be displayed in a manner that the permit number is clearly visible and unobstructed.
Park only in designated parking areas.
Staff and students that have a state-issued Disability Parking Placard or Plate may park in any designated parking space on campus, i.e. student, staff, disabled. They may not park in non-designated parking areas, i.e. red zones, loading zones, no parking zones, etc.